ALTA surveys represent the highest standard in the land surveying industry as they play a vital role in commercial real estate transactions to ensure that all the necessary requirements are being met in a way that protects all sides of the transaction. For example, insurance companies often ask for an ALTA survey before insuring a property, and many lenders for commercial property acquisition require it prior to financing the purchase.
As opposed to other types of surveys such as boundary or topographic, ALTA surveys need to be in compliance with national standards known as Minimum Detail Standard Requirements. These standards were established by both the American Land Title Association (ALTA), as well as the National Society of Professional Surveyors (NSPS), a professional organization of land surveyors.
Required ALTA survey elements
As a highly experienced land surveyor in Alabama, Tucker Engineering is qualified to conduct precise and detailed ALTA surveys that include, but are not limited to, the following elements:
Land improvements & Encroachments
Easements - rights to use the land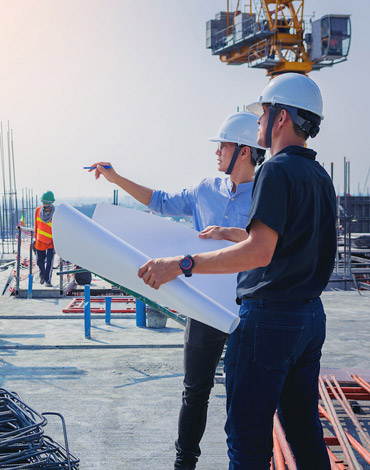 A highly-trained team with +25 years of experience
Conduct your ALTA survey with Tucker Engineering
The ALTA survey is one of the most important documents that have to be presented during a real estate transaction process. This detailed land parcel map not only serves for defining the improvements on a property and its boundaries, but can also be used for future legal disputes.
For this reason, it's extremely important to choose an experienced ALTA surveyor in Alabama such as Tucker Engineering.
Detailed ALTA surveys with the latest equipment
Get a clear, comprehensive view of your property with our top-notch ALTA surveying services.
We will make sure that it adheres to the highest standards set by the American Land Title Association and the National Society of Professional Surveyors as we go through all steps of the process - from research and field investigation to analysis, mapping and final review.
Frequently Asked Questions
Frequent questions and answers about ALTA Surveying
An ALTA Survey is a detailed and comprehensive land parcel map that defines the existing improvements on a property, as well as its legal boundaries. ALTA surveys are usually required for most commercial real estate transactions.
How is an ALTA survey done?
An ALTA survey is done by conducting a comprehensive field investigation. Then, the ALTA surveyor will use a set of tools to collect and analyze data, creating a plat with the detailed notes.
What is the difference between a boundary survey and an ALTA survey?
The main difference between a boundary land survey and an ALTA survey is that ALTA surveys provide a significantly more precise and comprehensive overview of the property's boundaries and improvements, adhering to national standards. Boundary services provide a more limited information on the property, focusing mainly on boundary lines between parcels.
Who orders the ALTA survey?
Numerous participants within the commercial real estate transaction can order an ALTA survey, such as insurance companies, financial institutions or lenders. However, only a professional land surveyor such as Tucker Engineering can prepare the survey, ensuring that it adheres to the highest standards set by authorities within the industry and within the state of Alabama. Get in touch with us for more information.